Who We Are and What We Do
Founded since year 1973, Metal Machines Engineering Service Pte Ltd has been thriving to be an innovative in-situ machining and metrology provider by continuously invest in our staff and equipment to bring optimal time saving solutions to our clients from Marine, Offshore, Oil & Gas, Petrochemical and Power Generation industries. By equipping ourselves with the widest range of equipment and largest team of field service technicians in Southeast Asia region, we guarantee the time and quality to every job that we have committed.
With our main focus to save precious turnaround time for our client, our headquarter in Singapore has implemented 5S store management approach and inhouse training program to react swiftly to any emergency request. Our crew are also equipped with professional safety certifications to take up assignments in different offshore conditions.
To achieve our vision to be the most preferred in-situ engineering solutions provider in Asia, we have established various satellite branches and technical teams in China, Malaysia, Indonesia and United Arab Emirates.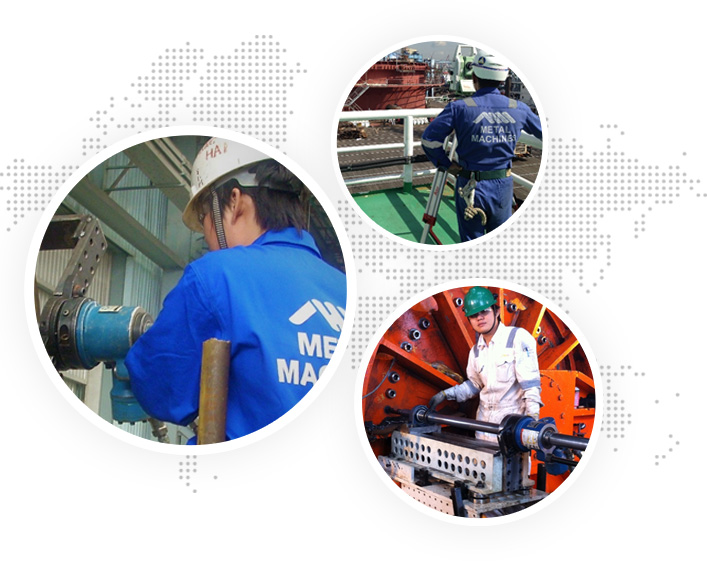 Our Mission
To continuously striving to be a dependable and strategic long-term partner to our customers by:
Thoroughly understanding our customers needs and requirements.
Continuous invest and provide opportunities in our employee
Delivering value-added, innovative and real-world solutions that meet international quality and safety standards.
Striving for service excellence and total customer satisfactions, each time and every time
Our Strategy Business Partners
We have collaboration with synergy partners to provide "one stop" solutions for our clients. They are:
Ltech Engineering Pte Ltd (CNC machining workshop)
We are also constantly looking out for regional partners in Indonesia, Thailand and Vietnam to explore synergy possibilities. Please contact us if your organizations are interested.